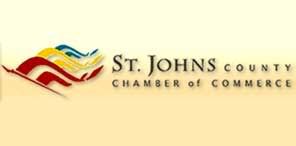 Chamber President Robin Burchfield has announced to Historic City News that the St. Johns County Chamber of Commerce will be working harder than ever to promote the health of small businesses in our community through its new seminar series: FINDING A YES IN TODAY'S ECONOMY
During these challenging economic times, if you're a small business hearing lots of "no's" — this new lecture series promises to be the way to get more "yes's".
Featuring strategies for increasing profitability, gaining market perspective and overcoming international market challenges, the series will run for three months beginning at 4:30 p.m. on February 12th at the St. Johns County Chamber of Commerce with Steve Goranson of ActionCOACH Business Coaching.
To grow your business, you need more, right? More customers. More revenue. More profits. But, these three factors are end results – not what really drives your business. Goranson will discuss the five areas that every business must focus on to increase their profits in any economy and especially in a down economy.
Think you know what your customers want or don't want? How about what they're afraid of? The second seminar, scheduled for 11:30 a.m. on March 17 at the Chamber, will be presented by John Birney of First Coast Fianancial Advisors. Birney will be speak to the role the media plays in creating fear in the minds of investors. He will take you through the last 30 years, using TIME Magazine "hit the stand" dates to show the affects on an investment mindset.
How large is your client base – region, state, nationwide or international? Businesses leveraging international markets face unique challenges. Come hear our final speaker, Jorge Antonio Arce of U.S. Commercial Service-Jacksonville, at 9:00 a.m. on April 16 at St. Johns County Convention Center at World Golf Village. The U.S. Commercial Service, a program of the U.S. Department of Commerce's International Trade Administration, helps U.S. companies, particularly small and medium size businesses while doing business in markets around the world.
For more information visit www.sjcchamber.com or call the Chamber at 904-829-5681.
Share your thoughts with our readers >>