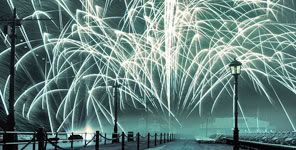 Schedule
6:00pm The All Star Orchestra in the Plaza de la Constitucion
Big Band Sounds with a Patriotic Flair, the All Star Orchestra, returns to the Plaza de la Constitución for a two-hour show filled with Big Band and Swing music along with all the traditional patriotic favorites. The performance runs from 6:00pm until 8:00pm. The concert is free and those attending should bring lounge chairs for seating.
9:30pm Fireworks Over The Matanzas
Stunning fireworks display over the Old City's historic Bayfront and set to a stirring soundtrack of patriotic and popular favorites. The best vantage point for both sight and sound is between the Castillo de San Marcos National Monument and the Bridge of Lions. But if you can be there, take an AM radio with you wherever you go and share the experience with the help of WFOY/1240-AM's simulcast.
Getting in, parking, and getting out
Fireworks Over The Matanzas draws more people (an estimated 45,000+) and cars into the downtown area than any other single event all year long. A growing trend in recent years has been the use of bicycles by those who live close to downtown or carpooling with friends to minimize the number of cars in need of a place to park.
Rerouting of traffic will begin at 8:30pm and will include closing of the Temporary Bridge of Lions, Avenida Menendez and South Castillo Drive to all vehicular traffic to accommodate the vast number of pedestrians.
The best advice is to arrive early, explore the city, enjoy the show, and be patient during departure.
After the show…stay 'n stroll
Each year more and more people are remaining downtown after the fireworks for dessert, to browse shops that have extended hours for the holiday or simply to enjoy the Old City.
Sticking around for a while has become the preferred alternative to sitting in traffic. Many have a late night sandwich, an ice cream cone or simply enjoy a leisurely stroll back to the car. Why not join the thousands who choose to stay 'n stroll after the show.
Keep it Safe! Keep it legal!
Please remember two important safety rules that will be strictly enforced:
• Alcohol is prohibited on public property, including parks, streets and sidewalks; and
• Possession of fireworks that explode or leave the ground is illegal. Those found with such fireworks will be subject to citation or arrest and will have prohibited fireworks confiscated. The cost of the citation is $100.00.
Simply put: Have a great time with friends and family, but keep it safe and legal!
Fireworks Fun Facts
• The pyrotechnics for Fireworks Over The Matanzas are manufactured and shot by Santore & Sons of Bunnell, Florida, a company that's been in the fireworks business for 119 years.
• Tonight's show includes 5,000 individual shells ranging in size from 1" to 12" in diameter.
• Shells explode as low as 100' above the bay, as high as 2,000' and everywhere in between.
• Santore crews shoot over 250 shows a year and started working on the materials for Fireworks Over The Matanzas over five months ago.
• In addition to St. Augustine, Santore crews are firing shows in 40 other locations tonight to celebrate our nation's birthday.
Traffic Specifics / Detours & Road Closures
Street Closures on July 4th
All day
• Charlotte St. between King St. and Cathedral Pl.
8:30pm until approximately 10:30pm
• The Temporary Bridge of Lions
• S. Castillo Dr. and Avenida Menendez north of the Temporary Bridge of Lions
• Cathedral Pl. from Avenida Menendez to St. George St.
• Orange St. from S. Castillo Dr. to Ponce de Leon Blvd. (U.S. 1)
Detours in effect from 8:30pm until approximately 10:30pm
• King St. will be two-way
• King St. eastbound will turn north on St. George St., then west on Cathedral Pl. (detour routed to Cordova St. to King St.)
• Avenida Menendez northbound will turn west on King St.
• San Marco Ave. southbound will turn west on W. Castillo Dr. to Ponce de Leon Blvd. (U.S. 1)
• W. Castillo Dr. eastbound will turn north on San Marco Ave.
• Anastasia Blvd. westbound may not cross the Temporary Bridge of Lions
Parking
• The Historic Downtown Parking Facility at the Visitors Information Center can accommodate 1,200 cars. The cost is $7.00 for all day.
• All public parking throughout the city will be available at no charge throughout the day.
• The parking lot at the Castillo de San Marcos National monument will be closed from 6:00pm until 11:00pm.
Share your thoughts with our readers >>