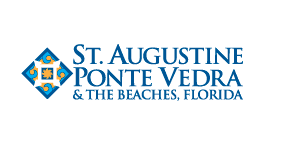 Communications Director Jay Humphreys with the St. Augustine Visitors and Convention Bureau updated Historic City News on this weekend's entertainment events including the Florida's First Coast Arts Festival.
Friday, Saturday & Sunday: May 22-24
FLORIDA'S FIRST COAST ARTS FESTIVAL
Come experience quality theatre, musical performances and visual arts when Florida's First Coast Arts Festival continues throughout the weekend at the St. Augustine Amphitheatre. Presented by the University of Florida's College of Fine Arts, this weekend's stage presentations include: Jane Austin's romantic masterpiece, Pride and Prejudice at 7 p.m. on Friday and 5 p.m. on Sunday; the Academy Award and Golden Globe-nominated production Grease will be performed at 9 p.m. on Friday, Saturday and Sunday; on Saturday at 7 p.m., The Jacksonville Symphony Orchestra will perform their special Americana Pops; and the hilarious The Complete Works of William Shakespeare Abridged will be performed at 7 p.m. on Sunday. Plus, The 2009 Juried Student and Alumni Outdoor Sculpture Exhibition will be on display throughout the weekend. For details, call 352.273.0501 or visit www.floridasfirstcoastartsfestival.com . Tickets are priced at $20-$25 per for each performance and may be purchased at www.ticketmaster.com (enter St. Augustine in the Search box).
Friday: May 22
AQUATIC PRESERVE KAYAK TOUR
Enjoy beautiful views of the Princess Place Preserve while a Florida Master Naturalist interprets local ecology, history, folklore, and proper kayaking technique. The tour leaves from Faver-Dykes State Park for a 3-hour paddling eco-tour through one of the best kept natural estuaries in Florida and be a million miles from nowhere! Faver Dykes State Park is located off US1 South at I-95 Exit 298 in St. Augustine. The tour is from 9 a.m. to noon. The cost is $50 per person and includes park admission, kayaking equipment, guided tour and photos. For more information or to reserve your space, call 904.347.1565 or visit www.RippleEffectEcoTours.com.
Saturday: May 23
SECOND ANNUAL INTERNATIONAL POTATO ARTS FESTIVAL
Check out the artistic spuds at the International Potato Arts Festival from 9 a.m. to 3 p.m. at Johnny's Kitchen in downtown Hastings. More than 25 artists will exhibit their work, a University of Florida professor will talk about potatoes, Willie Green and his Blues Band will entertain and World Famous Made In Hastings Sweet Potato Pies will be for sale – all to benefit the Hastings Youth Athletic Club. For more information, go to www.potatoartshow.blogspot.com/
FORT MATANZAS NATURE EXPLORATIONS
Be a part of this National Parks Service Nature Series at Fort Matanzas National Monument. These ranger-led walks are part of a series of excursions, each exploring a different habitat or ecosystem at Fort Matanzas. The tours take place on the last Saturday of each month from 9:30 – 11:30 a.m. Fort Matanzas National Monument is located on A1A at the south end of Anastasia Island approximately 15 miles south of St. Augustine. For more information, call 904.461.0116 or visit www.nps.gov/foma.
ANNUAL HAWKE DINE ON THE WILD SIDE
Feast for a good cause at this annual event that helps raise funds and awareness of programs offered by HAWKE, The Humane Association of Wildlife Care & Education. Attendees will be able to dine on delicious food while enjoying the St. Augustine Alligator Farm's exotic setting. Admission to the event also includes exclusive use of the Park from 5 to 9 p.m., live music provided by one of North Florida's blues legends, Willie Green, and a guided tour of the bird rookery to view thousands of birds in all stages of life from courtship to nesting. Bring your camera for unique photographic opportunities. Tickets are $40 per person ($30 for kids ages 5-11). For more information about HAWKE or to find out where you can get tickets, call 904.692.1777 or visit www.hawkewildlife.org . .
CHANGING OF THE GUARDS
Experience living history as park rangers & volunteers re-create the 18th century Spanish Changing of the Guards ceremony that took place each day at the St Augustine City Gate during the period of military hostilities between colonial Spain and Britain in America. The event at the City Gate at the north end of St. George Street is free. Admission to the Castillo de San Marcos, located on St. Augustine's Bayfront, is $6 for adults and free to children 15 and under. For more information, call, 904.829.6506 x233, email Jeff_Edel@nps.gov, or visit www.nps.gov/casa.
HISTORICAL RUMMAGE SALE
Need to replace your 16th century codpiece? You might find just what you need from 10 a.m. – 3 p.m. at St. Augustine's Government House, 48 King Street – the location of a rummage sale of books, living history gear and garb, and other items of interest. Members of the Men of Menéndez and the St. Augustine Spanish Garrison will contribute a variety of living history materials for sale. For more information, contact Catherine Culver at cculver@ci.st-augustine.fl.us or 904.825.5088.
Sunday: May 24
Faver-Dykes State Park Kayak Tour
Explore the beautiful Pellicer Creek Aquatic Preserve and uncover what native Florida really looks like from Faver-Dykes State Park, one of the area's true hidden gems! This guided tour offers an abundance of both fresh and saltwater species including dolphins, otters, manatees, and incredible birding! No experience required to learn local ecology and kayaking techniques from a professional guide/naturalist. Faver Dykes State Park is located off US1 South at I-95 Exit 298 in St. Augustine. The tour takes place from noon to 3 p.m. cost is $50 per person and includes park admission, kayaking equipment, guided tour and photos. For more information or to reserve your space, call 904.347.1565
Share your thoughts with our readers >>