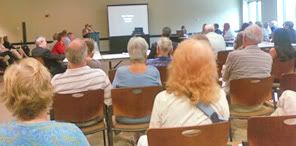 Historic City News reporters and a roomful of residents and organizational leaders looked on as Dana Ste. Claire told a 14-member Steering Committee of community leaders "This is the first official day of our St. Augustine 450th Commemoration" yesterday.
"We are looking at a linear World's Fair, spread over a three-year period, because we can't fit it all into one year," Mayor Joe Boles added, as the Steering Committee met for the first time with consultant Jeanne Zeidler at Flagler College's Ringhaver Student Center.
"I can assure you," Ste. Claire added, "that while this is the official start, our community and our Congressmen have long been at work, developing program ideas, giving us input, and establishing a Federal St. Augustine 450th Commemoration Commission."
Zeidler, Williamsburg VA mayor and executive director of the Jamestown 400 commemoration in 2007, outlined her community's commemoration, including some $400 million in area improvements and programs and countless committees and subcommittees.
She'll be adapting the Jamestown program with Ste. Claire into a strategic plan for our 450th, to be brought to the Steering Committee in early September.
There were concerns. Florida National Guard Adjutant General Douglas Burnett told Zeidler, "We are in a different economic environment today. How are we to access all this funding?"
Zeidler replied, "It wasn't easy for us. Back then the Lewis and Clark and Wright Brothers commemorations had failed, and many potential supporters noted that. But with partnerships, we made it work."
Former State Representative Doug Wiles suggested infrastructure improvements need to include the long-term quality of life of our residents.
The Steering Committee will gather again to review a proposed strategic plan in September. Meanwhile, Mayor Boles cautioned committee members, "We are a governmental committee, operating in the sunshine, so you won't be able to talk with each other until we meet again."
Photo credit: Merrill Paul Roland
Share your thoughts with our readers >>