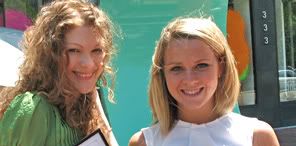 The Jacksonville-area chapter of the Florida Public Relations Association (FPRA) recognized Flagler College Media Specialist Elizabeth Daube and student Bailey Latham at the organization's 2009 Image Awards according to an announcement received by Historic City News this morning.
They received both an Award of Distinction and a Judges' Award in the news release category at the April 3 event. The former award is given to entries that meet a standard of excellence set by a panel of FPRA judges; the latter is presented by judges for an outstanding entry that achieves maximum results while using a minimum amount of money.
Daube's and Latham's winning entry promoted the accomplishments of Flagler public administration students who brought nearly $1 million in funding to local government after taking a grant-writing class. Several media outlets covered the story, including a September 2009 Florida Trend article called "Paying Dividends."
"Because Bailey is a student and Liz is a Flagler graduate, these awards are another indication that the college continues to set high standards of excellence in the field of communication," said Brian Thompson, Flagler's director of public information. "We're extremely proud of them."
A freelance writer and former newspaper reporter, Daube currently handles a variety of media relations, Web and marketing projects for the college. The 2005 graduate also serves as assistant editor of Flagler Magazine and volunteers with Community Hospice of Northeast Florida and Learn to Read of St. Johns County.
Latham, a junior communication major, helped produce the release as a summer intern in Flagler's public information office. She is a member of the Public Relations Student Society of America and was recently named managing partner of the student-run Dow Advantage Public Relations Group.
The Jacksonville-area FPRA Image Awards competition judges submissions from area public relations professionals in a variety of categories, from crisis communication programs to press releases. Winners are chosen annually for showing the best innovation, planning and design.
Share your thoughts with our readers >>