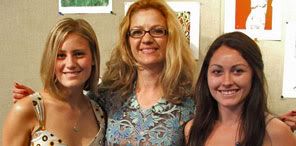 Historic City News has learned that Flagler College students Meredith Dynow (far left) and Danielle Brewer (far right) won first place awards at the college's second juried student art show at the Crisp-Ellert Art Museum.
The annual event gives students a chance to show off their talent, have their work judged by professionals and – in a few cases – take home some cash.
Kimberly Hunt of Rembrandtz Gallery, center, donated prize money for the winners.
Share your thoughts with our readers >>