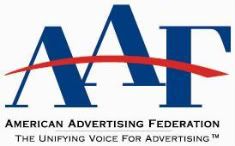 Liz Daube reported to Historic City News that Flagler College graphic design students have won several awards at a recent ADDY competition in Jacksonville as well as taking first place at this year's American Institute of Graphic Arts (AIGA) Student Poster Competition.
Flagler students Leigh Smith, Katelyn Calautti, Matthew McCoy, Ronda Murphy, Lyndsey Buechler and Luke Broderson all took home a gold or silver student ADDY at the local level. The ADDY is an American Advertising Federation contest organized to honor excellence in advertising and cultivate the highest creative standards in the industry. It is the biggest creative ad competition in America, with local, regional and national award levels.
"We are very proud of them," said Chris Smith, chair of Flagler's art and design department. "It means a lot for the students' résumés to have awards, and … it gives the students experience and exposure to real professionals in pursuit of awards, which is a big part of life in the field of graphic design and advertising."
As a soon-to-graduate senior design major, Buechler said she hopes "this award will put that extra bit of something in our résumé and will hopefully make employers take a second look at us."
Calautti, also a graduating design senior, added, "It's always nice knowing that one of my portfolio pieces is a well-solved creative solution. Thinking back to how Flagler has helped me develop my skills as a designer, I think mainly of all the nurturing and freedom we are given as students – it is what you do with it that makes you the designer you are."
Senior design major Chris Straehla received first place at the AIGA poster contest, and Flagler student Jessica Wyatt also placed in the top 10. About 50 students from colleges and universities in Northeast Florida submitted entries to the contest, which gives them a chance to have their work judged by local creative professionals. Straehla's winning poster will be used to promote a regional portfolio review in April.
"Winning a competition like the AIGA portfolio review poster contest is a really strong accomplishment to have on my résumé," Straehla said. "At Flagler, we have an exceptionally strong art department with some awesome professors. I feel that I owe a lot to these people for pushing me to grow so much as an artist and as a designer these past four years."
Share your thoughts with our readers >>