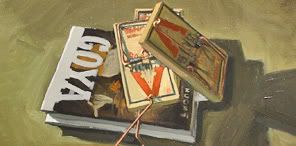 Media Specialist Liz Daube reported to Historic City News that two Flagler College professors are part of "Florida Contemporary," a new Naples Museum of Art exhibit representing 50 photographers and painters from around the state.
Associate Professor Patrick Moser and Assistant Professor Sara Pedigo, both painters, were selected for the exhibition that showcases the rich variety of Florida art, from realism to abstraction. The museum describes the show as "an overview of the innovative images, subject matter and mediums that characterize the work being created in the state today."
Moser said his featured painting, "Goya With Traps," was inspired by "the rather disturbing state of my studio at the time – and a love of Goya, of course."
Moser's work is displayed in numerous public and private collections, including The Ringling Museum of Art in Sarasota, Fla., McGraw Hill Companies in New York and Robert Henry Adams Fine Art in Chicago. He received his master of fine arts from the University of Florida. At Flagler, he teaches painting, drawing and the bachelor of fine arts senior portfolio class.
Pedigo said her featured piece in Naples, "Susan and Frank, Jr.," came from a collection that she created during the final year of her mother's life. The series is based on old photos and "meant to celebrate her life" while "emphasizing her deteriorating health."
A Flagler alumna, Pedigo received her master of fine arts from the University of Massachusetts-Amherst. She is a recipient of a MFA Grant from the Joan Mitchell Foundation and has exhibited throughout United States, including the Outwin Boochever Portrait Competition at the Smithsonian National Portrait Gallery and a group exhibition at the Cue Foundation in New York City.
The "Florida Contemporary" exhibit runs through June 28th.
Share your thoughts with our readers >>