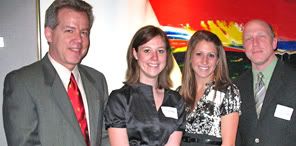 Flagler College reported to Historic City News that students Kincaid Schmidt and Katherine Wrisley have received scholarships from Phi Beta Kappa, the nation's oldest and most widely known academic honor society.
They received the scholarships from the Northeast Florida alumni chapter of Phi Beta Kappa at an April 1 luncheon. Four awards were available, and students from undergraduate programs at Jacksonville University, Edward Waters College, University of North Florida and Flagler were eligible to apply. Winners were selected for intellectual breadth and academic excellence in the liberal arts and sciences.
Wrisley has a 4.0 grade point average and is majoring in English and philosophy/religion. A Franciscan academic journal, "The Cord," recently published her article, "Optimistically Embracing Creation." She has volunteered with the St. Francis House, the Homeless Coalition and as a Writing Center tutor, and she is currently interning at the Nombre de Dios Mission in an effort to get the landmark registered as a national shrine.
Schmidt is a dual major in political science and Latin American studies. She has a 3.69 grade point average and has been a starter on the women's soccer team in every game since she arrived at Flagler. Schmidt hopes to join the Peace Corps when she graduates, and she has already volunteered in Peru and the Dominican Republic.
Some of Schmidt's and Wrisley's professors attended the luncheon to show their support; Associate Professor of Political Science Arthur Vanden Houten, Ph.D., said Schmidt earned her scholarship through her "penetrating insight, understanding, curiosity and maturity."
Professor of Religion Timothy Johnson, Ph.D., said Wrisley stands out as a student because of her "keen analytical skills, artful prose and a deep desire to explore religious, cultural and historical questions."
"The thing about Katherine is that not only is she incredibly intelligent, she's just such a good person," he said. "She's always willing to help people in a variety of ways."
Let us know what you think >>