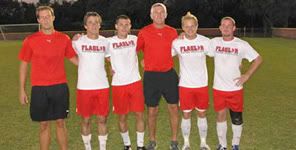 Sports Information Director John Jordan reported to Historic City News that Flagler College defeated Francis Marion University 3-1 to claim the 2009 Peach Belt Conference men's soccer regular season title Saturday at Saints Field.
Prior to the match, Flagler honored its four seniors (l.-r. Assistant Coach Ned Hunt, Ryan Endrizzi, Steven Carothers, Head Coach John Lynch, Danny Burke and Eoin Cassin).
Flagler won its fourth match in a row to improve to 12-5-1 overall and 7-1-0 in the conference. Flagler joined the PBC this summer along with the University of Montevallo. The last time the Saints captured a men's soccer regular season title was back in 2002 when it claimed the Florida Sun Conference title and then went on to win the NAIA Region XIV crown and then on to the NAIA National Tournament.
Flagler will be the No. 1 seed in the PBC Tournament which gets underway with quarterfinal matches at campus sites. Flagler will take on North Georgia College and State University on Tuesday at 7 p.m. at Saints Field. The winner advances to the semifinals in Evans, Ga., on Nov. 6 and the championship is Nov. 8, also at Evans.
Francis Marion had its seven-match unbeaten streak come to an end as it wrapped up the regular season with an 11-4-3 overall record and a 4-2-2 mark in the conference.
Flagler out-shot Francis Marion 18-6 and held a 4-2 advantage in corner kicks.
Let us know what you think >>