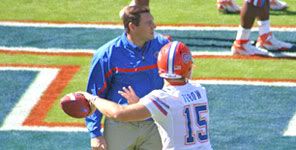 By Ryan Christopher DeVault
Florida is #1 in first AP preseason poll. The first AP preseason poll in college football has been released, and,.moreover, the University of Florida is the runaway #1.
Not only did Florida achieve the #1 spot in the first AP college football poll of the season, but they did it by the widest margin of any AP preseason poll in the history of the rankings. In the first AP preseason college football poll, the University of Florida was able to attain 58 of the 60 possible first place votes, and with it the #1 spot. Coming in as the #2 ranked team in the first AP preseason football poll was the University of Texas, which was able to attain two first place votes.
The University of Florida is trying to achieve something that is rarely ever done in college football, and that is to dominate for a four year span. The Florida Gators are trying to become the National Champions in three of the past four seasons, and place themselves as one of the better dynasties that has played in college football. Florida is coming off winning the college football National Championship last season, when they were able to sneak into the National Championship game. That caused a bit of controversy at the time, because there were several undefeated teams left in college football, and Florida had already racked up one loss. A year later, less people care about that controversy, but don't ask anyone at Utah if they thought it was fair.
The Associated Press top 25 is usually the poll that is given heavier weight by the networks, but serves as two of the main top 25 polls until the Bowl Championship Series rankings come out a bit later in the season. At the top of the list, Florida was able to attain 1,498 of 1,500 possible points, with Texas coming in second overall with 1,424. Finding themselves as the #3 team in the first AP preseason football poll is Oklahoma, followed by USC at #4 and Alabama at #5. The top 10 finishes out with Ohio State, Virginia Tech, Mississippi, Oklahoma State, and Penn State.
One of the really big match-ups coming up will be USC and Ohio State, and it could completely re-shape the top of the polls. LSU plays Alabama a bit later, and everyone is already excited about another Oklahoma vs. Texas match-up. The college football season is about to get started, and Florida has already been set up nicely to try and repeat as the college football National Champs. Earlier in August the USA Today Coaches Poll was released, and the top seven teams were ranked in the exact same order within that poll.
Photo credit: Joel Mclendon Wikimedia Commons
Let us know what you think >>