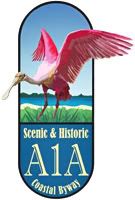 Historic City News has learned that VISIT FLORIDA, the state's official source for travel planning, has awarded marketing and tourism education grants to the Friends of A1A for the 2009-2010 Fiscal Year, which began July 1, 2009.
"The purpose of these grants is to help non-profit entities and local governments stretch their tourism marketing dollars in an effort to expand cultural, heritage, rural and nature tourism activities in Florida," said Chris Thompson, President & CEO for VISIT FLORIDA.
"We were pleased that VISIT FLORIDA and the Florida Commission on Tourism selected us from among a large number of grant applicants, during their most competitive grant cycle to date," said Sallie O'Hara, Administrator of the Friends of A1A. "These funds will be used to educate and market the A1A corridor through St. Johns and Flagler counties and attract visitors to the area."
VISIT FLORIDA, a private/public partnership, is the Florida Commission on Tourism's day-to-day operating corporation.
The Friends of A1A Scenic and Historic Coastal Byway is a non-profit organization that protects, preserves, and enhances resources along the A1A National Scenic Byway. This citizen's advocacy group partners with municipalities, governmental agencies and other civic groups to maintain and improve resources along the corridor.
Designated in 2002, the A1A Coastal Byway consists 72 miles along St. Johns and Flagler counties Atlantic Ocean. The Byway is rich in history, nature, archeology, culture, scenery and recreation. The Friends of A1A benefit residents and travelers by protecting, preserving, enhancing and maintaining the identified intrinsic resources while allowing economic development.
Let us know what you think >>