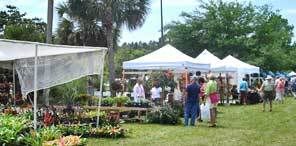 Historic City News has learned that the St. Johns County Extension Service will be holding the St. Johns County Home and Garden Show and Datil Pepper Festival this weekend, October 3rd and 4th.
The show promises hourly talks, a Master Gardener plant clinic, Master Gardener plant sales, entertainment, antique cars, garden tours and a number of vendors related to home and garden activities.
The Datil Pepper Festival will feature datil pepper products, a professional "cook off" and tasting on Saturday, October 3rd with some of St. Augustine's top local chefs.
On Sunday, October 4th, an amateur contest will be held to showcase local talent.
The events will be held at the St. Johns County Agriculture Center located at 3125 Agricultural Center Drive in St. Augustine. Call 904-209-0430 for more details.
Photo credit: © 2009 Historic City News photographer Kerry McGuire
Let us know what you think >>