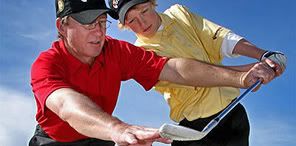 St. Johns Golf Club is bringing adults into the game of golf in a fast, fun and affordable way through the new Get Golf Ready in 5 Days program according to an announcement received by Historic City News today.
This new industry-wide initiative is comprised of a series of five introductory lessons offered by PGA/LPGA Professionals in a small-group environment from April 27 – May 1 for the affordable price of $99.
"The Get Golf Ready program provides an affordable and rewarding educational experience for those who are interested in learning more about the game of golf," said Tom Stecker, PGA Teaching Professional. "The program will provide a casual yet structured setting using fun, skill-enhancement formats to help participants become comfortable on the links and enable them to continue to develop their skills as golfers."
Targeting adults who have limited or no experience with the game of golf, this new adult player development program will include five lessons that provide basic skills instruction, as well as information regarding the background of the game's rules, etiquette and values.
Significant on-course learning opportunities will be a part of each lesson.
Overall, participants will gain insight into techniques regarding chipping, putting, full swing, half swing and bunker play, as well as the fundamental guidelines regarding the use and maintenance of golf equipment, keeping score and navigating the course.
St. Johns Golf Club is a public course run by St. Johns County that offers daily tee times up to a week in advance. The course has 27 championship holes and welcomes players of all ages and skill levels. St. Johns Golf Club is located at 4900 Cypress Links Boulevard in Elkton.
For more information or to register for the Get Golf Ready program at the St. Johns Golf Club, please call the facility at (904) 209-0350.
Share your thoughts with our readers >>