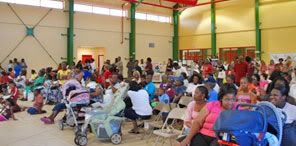 The St. Johns County Board of County Commissioners has asked that Historic City News invite the community to the Dedication and Grand Opening of the Solomon Calhoun Community Center in West Augustine, planned for Saturday, April 25th.
The dedication ceremony will begin at 10:00 am, followed by a Community Open House from 11:00 am to 2:00 pm.
The Dedication will include comments by United States Congressman John L. Mica, St. Johns County District 2 Commissioner Ron Sanchez and West Augustine community leaders, followed by a ceremonial ribbon cutting.
The Open House will then be an opportunity for the public to tour the new 24,000 square foot facility and enjoy a sampling of the programs to be offered there, including live entertainment, children's activities, an art exhibit, community agency information booths and a community cookout.
Several groups will perform on the gymnasium stage throughout the Open House, including the Mt. Moriah Church Choir, Northeast Florida Steppers, Angel Brown, Jarvis James, Young Man of Excellence, Tabernacle Dance Team, St. Johns River Baptist Mass Choir and Dance Team, Murray Middle School Band and others. Additionally, art will be displayed from Congressman Mica's 7th Congressional District High School Art Competition "An Artistic Discovery", with the winners being announced onstage.
The Solomon Calhoun Community Center has been a long-time project of the West Augustine Community Redevelopment Agency and goal of the County Commission.
The groundbreaking was October 25, 2007, exactly 18 months prior to the Dedication and Open House.
The facility is located at 1300 Duval Street, within walking distance of much of West Augustine. The complex includes a full-size gymnasium, several community and all-purpose rooms, office space, a swimming pool and splash park, and athletic fields to be added in the future. Please note the swimming pool will not be open during the Open House.
Multiple agencies will have a presence and offer programming at the Calhoun Center, including St. Johns County Recreation and Parks, the Northeast Florida Community Action Agency, the Sheriff's Office Weed and Seed Program and the YMCA. The approximately $7.9 million project is funded through a combination of sales tax bond revenue, impact fees and bond financing.
The facility was named by the County Commission earlier this month for Solomon Calhoun, a long-time educator, mentor and coach in St. Johns County, who was also the first All-American football player at Florida A&M University. Members of Calhoun's family will be present for the Dedication.
Contributed photograph by St. Johns Cultural Council
Let us know what you think >>