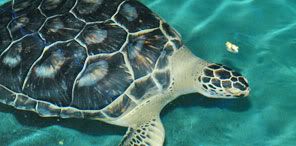 Historic City News was notified that St. Johns County and State officials will release a juvenile green (Chelonia mydas) sea turtle to return to its native ocean this Friday, May 8, at 4:30 pm, near the Surfside beach access ramp in Vilano Beach.
This will be St. Johns County's first public turtle release in at least four years, and the public is invited to attend and witness this unique experience.
The turtle being released was found on the beaches of the Guana Tolomato Matanzas Estuarine Research Reserve (GTMNERR) in Ponte Vedra during March of this year. At the time the sea turtle had a small abrasion to the right side carapace with barnacles, filamentous algae and other algae present on its shell.
The rescued turtle was originally treated at the Volusia Marine Science Center in Ponce Inlet, and then transferred to the Clinic for the Rehabilitation of Wildlife (C.R.O.W.), Inc., on Sanibel Island in south Florida.
The sea turtle has now reached full recovery and is ready to be released in its native waters of the Atlantic Ocean. Typically, juvenile green sea turtles are seen in inshore waters, which is where this turtle will likely return to forage on native sea grasses.
Green sea turtles are listed as endangered under the Endangered Species Act, a federal law designated to protect critically imperiled species from extinction, administered by the US Fish and Wildlife Service (USFWS) and the National Oceanic Atmospheric Administration (NOAA).
The turtle release will take place at approximately 4:30 on Friday afternoon. Public parking is available at the Surfside beachfront parking lot.
Let us know what you think >>