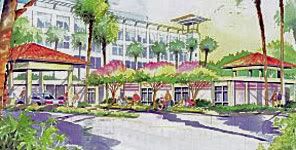 Community Hospice of Northeast Florida reported to Historic City News that groundbreaking for The Bailey Center for Caring will be September 24th at 9:00 a.m. on the Flagler Hospital grounds.
The Bailey Center for Caring is an 11,000 square-foot facility to be located just west of Flagler Hospital's main entrance and will bring the resources of Community Hospice of Northeast Florida to our community.
The name reflects a seven-figure donation by the Bailey family, part of the fundraising campaign which has so far passed $3 million of the $5 million goal.
Community Hospice president and CEO Susan Ponder-Stansel says, "The response from the St. Augustine community has been overwhelming. We are gratified to know that so many people have come forward in support of this inpatient care center, which will provide end-of-life care and an improved quality of life for families in St. Johns County."
The facility will include 12 private patient rooms, family gathering areas, chapel, kitchen, and lounge areas.
Community Hospice medical staff will provide 24-hour care in a unique, homelike setting, complete with gardens and walkways. Construction is expected to begin later this year.
Let us know what you think >>