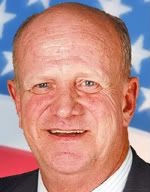 "If you want to do business in this county, this is what you have to do ….." Historic City News has learned that this, in paraphrasing FBI testimony and the admission of former County Commissioner Tom Manuel, was the demand made to government informants in exchange for bribes.
Manuel has entered his guilty plea in federal court in Jacksonville on charges that he accepted a total of $60,000 in bribes while seated on the St. Johns County Commission.
Manuel was considered by many to be the leader of a group of three commissioners elected on a platform that focused on stopping run-away growth and development across the county.
Former Commissioner Ben Rich, who lost his bid for re-election after one term, and current Commissioner Ron Sanchez together with Manuel took control of a three-to-two majority on the commission with a promise to stop over-development by denying future requests by "big developers".
Bruce Maguire lost his commission seat to Manuel and Karen Stern lost her commission seat to Sanchez who won in the general election race; defeating Ken Bryan who was running as a Democrat.
With Ben Rich already on the commission, and either Republican Ron Sanchez or Democrat Ken Bryan set to unseat Stern, Manuel would hold the power he needed to control the decisions brought before the commission – until he was caught and his plans unraveled.
In addition to the $60,000 paid to Manuel by a government informant and his attorney, in court today, Manuel admitted that he demanded that the developer involved in the sting operation make payments to Cathy Brown at the St. Johns Council on Aging. Brown was not implicated today in any wrongdoing.
Under the terms negotiated by the attorneys for the government and Tom Manuel, sentencing, which will be heard before a different judge, could result in Manuel going to Federal prison for up to 10 years, paying a fine of up to $250,000 and repaying $3,400 in restitution to the FBI for money Manuel admits he spent from the first $10,000 bribe taken.
Let us know what you think >>