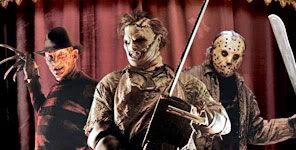 Historic City News would find it difficult to imagine a more appealing location for ghostly fun this Halloween than in the Nation's oldest city, St. Augustine, Florida.
With nearly 450 years of history, ancient narrow streets, two cemeteries with graves dating back hundreds of years, a brooding Spanish fortress and endless stories of roaming spirits and things that go bump in the night, it's the place to be for all things other-worldly. Despite daylight's warm Florida sun and beautiful Atlantic beaches, every night of the year features ghost tours and spooky encounters. But when Halloween approaches, that's when the spirits really get busy.
Here are some Halloween adventures waiting for intrepid souls, fun-seeking spirits and, well, shoppers.
Spirits in St. Augustine: Walk, ride or sail your way through a night of ghostly encounters on three tours offered October 30 and 31 only by Ghost Tours of St. Augustine – selected by Florida Living magazine as the Number One guided tour in Florida. A Ghostly Experience is a walking tour led by a guide in period costume who provides authentic stories of old St. Augustine – and an encounter with a spirit at three stops. Ghost and Legends is a riding tour through the historic district and a stop at Potter's Wax Museum. This tour ends with a nighttime walk on the grounds of the St. Augustine Lighthouse – a place called "the Mona Lisa of paranormal sites" in the United States by the Scy-Fy network's Ghost Hunters. Ghosts of the Matanzas features a one-hour, moonlit cruise aboard the schooner Freedom through the haunted waters of Matanzas Bay – the spirit of a long-decease pirate will be your guide. For reservations, tickets and more information on these tours, call 904.829.1122 or go to Ghost Tours of St. Augustine .
Black Raven Adventures: Go aboard the Black Raven pirate ship for a voyage that will make your blood run cold. Sure, the games, libations and fun stuff make it seem harmless, but a visit to the Haunted Locker of the Matanzas on the quarter deck will make you beg for a quick return to dry land. This adventure is available every Friday and Saturday leading up to Halloween Eve and Halloween when The Return of the Matanzas Zombies take over the ship! It is suggested that passengers set their affairs in order before departing on this cruise. The 8:15 cruise on each night is suitable for the entire family, but only adults over the age of 21 are allowed onboard for the 11:15 p.m. finales. For full details, go to Black Raven Adventures or call 877.578.5050.
Creatures of the Night: A visit to the St. Augustine Alligator Farm Zoological Park is sure to create lasting Halloween memories for the entire family! From 5:30-7 p.m. on October 29, 30 & 31, the Alligator Farm will present Creatures of the Night – a fun way to encounter creepy creatures along the park's wild walkways. Costumed keepers, candy and an alligator show each evening – plus drawings for free annual passes. Admission is $8 for adults and $6 for children. For more details, go to Alligator Farm Zoological Park or call 904.824.3337.
History and Legends of Halloween: The true history of Halloween and the Celtic New Year is presented on a fun walk offered by the top-rated St. Augustine Pub Crawl. Find out how the Celts got Halloween off to a great start on the night when the veil between the living and dead is at its thinnest; learn the significance of bonfires and jack-o'-lanterns, plus much more and a stop at five pubs along the way. This special tour is available each Wednesday through Sunday night through October 31. For full details, call 904.540.3476 or visit St. Augustine Pub Crawl.
Old Florida Museum: Visit the Halloween Festival at the outdoor Old Florida Museum – a living museum that features a Timucuan Indian hut, Spanish house, a Florida pioneer school house and the Old Florida General Store. Story telling, games, costume contests, pumpkin carving and much more are featured at the festival. Festival hours are 6-9 p.m., Friday, October 30, and 11 a.m.- 4 p.m., Saturday, October 31, A Timucua Indian guide and a colonial Spanish maiden will be your guides. Admission is $4. The museum is located at the intersection of San Marco Avenue and State Road 16 in St. Augustine. For more information, call 904.824.8874 or go to Old Florida Museum.
Family Fright Nights: What's Halloween without a visit to the original Ripley's Believe It Or Not! Museum in St. Augustine? This year, Ripley's is offering a chilling selection of Halloween week adventures, including special Midnight Madness Ghost Train Adventures on both Friday and Saturday nights. There will be a free Family Fun Ghost Walk departing from Ripley's Castle Warden on Friday and Saturday nights at 5, 6, & 7 p.m. – trick-or-treaters are welcome at Ripley's. Plus, for the truly fearless, a one-time only Witching Hour Tour will depart at 3 a.m. aboard the award-winning Ghost Train Adventure. To add to the festive atmosphere, each evening from 5-8 p.m., Spooky Dan the DJ will be spinning creepy tunes, shooting laser beams and tossing candy from his perch atop Castle Warden. For reservations or more information, cal 904.824.1606 or go to Ghost Train Adventure .
Shivers and Awe: If you're brave enough to go it alone, take a self-guided GPS tour through some of St. Augustine's most haunted real estate. Or if you need some company to stiffen your spine, take a pedicab ghost tour, segway tour or a personally-guided walking tour – all presented by SA GPS Adventure Tours. For full details on these unique ghost stores, go to SA GPS Adventure Tours or call 904.377.1447.
Fright Music Concert: Enjoy a lively program of Halloween music presented by the St. Augustine Community Orchestra and featuring the music of Chopin, Bach… even John Williams' theme from E.T.: The Extra-Terrestrial. The first concert will be at 8 p.m.., October 30 in the Lightner Museum, 75 King Street in St. Augustine. The second performance is scheduled for 3 p.m. on Sunday, November 1 at the Switzerland Community Church, 2179 State Road 13 in St. Johns. Tickets are $10 at the door for each concert, children under 12 admitted free. For details, go to St. Augustine Community Orchestra or call 904.287.8417.
Horror Zone Haunted House: Get scared for a good cause at the St. Johns County Sheriff Department's Horror Zone Haunted House. Creative makeup, clever lighting and motivated zombies create a scary atmosphere for visitors to the house in the former Mikee's store in the Food Lion Plaza, 2497 U.S. 1 South in St. Augustine. Admission is $5 and proceeds benefit the department's programs for juveniles.
Spooktacular Shopping: Uptown Saturday Night takes on a festive, Halloween theme on October 31 when the galleries, antique stores and unique shops along St. Augustine's San Marco Avenue stay open until 9 p.m. Meet-the-artists, book signings, live music and refreshments provided by the St. Augustine Independent Restaurant Association create a lively, autumnal atmosphere for bargain hunters. Plus, there's free parking at the Mission Nombre de Dios. For more information, call 904.824.3152. Also, Prime Outlets-St. Augustine, featuring a "who's who" of luxury names including Saks Fifth Avenue OFF 5th, Juicy Couture and Cole Haan, as well as the only Gucci's outlet store in the Southeast, will host trick-or-treating for children at the mall from 6-8 p.m. on October 31. For more information, go to Prime Outlets – St. Augustine.
Haunted Trails: Climb aboard wagons that will carry the entire family along trails leading through the deep woods inhabited by ghouls and goblins. Pony rides, face painting, moonwalks and carnival games add to the Halloween festivities. It all takes place at the Florida Agricultural Museum, 7900 Old Kings Road near the corner of U.S. 1 and Old Kings Road just across the Flagler County line. A donation of $6 per person is requested. For more information, call 386.446.7630.
Let us know what you think >>