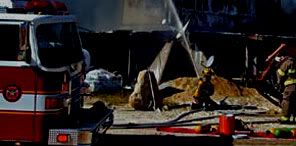 Jeremy Robshaw reported to Historic City News that St. Johns County Fire Rescue responded to a residential structure fire in the 800 block of North Main Street in Hastings at approximately 4:10am this morning.
Upon arrival firefighters found an abandoned residential structure engulfed in flames.
The fire had spread to an adjacent unoccupied mobile home.
Firefighters established a water supply and were able to extinguish and contain the fire without incident.
Due to heavy fire damage, both structures are listed as a total loss.
There were no injuries reported during this incident, and the cause of the fire is under investigation by St. Johns County Fire Rescue and the State Fire Marshals Office.
Let us know what you think >>