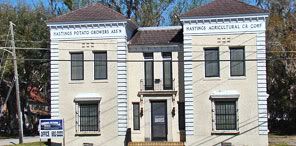 Robin E. Moore, Historic Resources Coordinator for the St. Johns County Environmental Division, reported to Historic City News that the Hastings Potato Growers Association Building is to be auctioned off next week.
The Hastings Potato Growers Association Building (circa 1927) is perhaps the most architecturally significant structure in downtown Hastings. The sale includes all of the original furniture.
Moore says that this two story office building will no doubt make a fantastic adaptive re-use project in the future.
This building is an anchor of Hastings' historic main street and an invaluable resource in our county.
"If you know of any organizations or individuals who might be interested in the building, please ask them to contact me." said Moore.
Share your thoughts with our readers >>