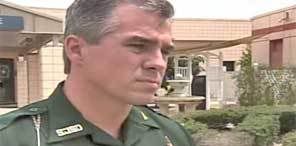 Sgt. Charles Mulligan reported to Historic City News this morning that several citizens and three St. John County Deputy Sheriffs working in Ponte Vedra Beach have been decontaminated by the St. Johns County Fire Rescue Haz-Mat Team.
All were transported to area hospitals following possible exposures to a hazardous substance.
The incident began around 11:30 p.m. Thursday evening, when deputies encountered three males and a female in the parking area leading to the beach, on Micklers Road.
While talking to the group, one of the subjects told the deputies he was despondent and had in his possession crystallized cyanide that he intended to use to due harm to himself.
Fire Rescue responded to evaluate the subject when two of the deputies began exhibiting symptoms of chemical poisoning.
The third deputy, wearing personal protective equipment, secured the container which the subject had alleged was cyanide.
At this time, it is unknown if all of the male subjects were together in the parking area.
SJCFR Haz-Mat established a Decontamination Operation in the parking lot for all 5 individuals who may have had contact with the subject, prior to transporting them to Beaches Baptist.
The despondent subject and the female were transported to Flagler Hospital's Emergency Center for medical treatment and decontaminated at that site, along with three SJCFR Paramedics.
Preliminary testing conducted by SJCFR at the scene determined the substance to be Sodium Cyanide.
SJCFR Haz-Mat will continue decontaminating vehicles and other equipment utilized by the deputies at the site. Further, The Department of Environmental Protection is onsite to assess any ground contamination of the parking area and any potential cleanup operations.
Let us know what you think >>