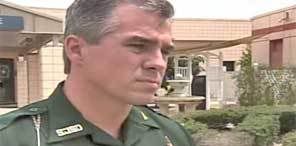 Sgt. Charles E. Mulligan reported to Historic City News today that someone shot a cat through its front legs Saturday evening around 7 p.m.
When Deputy Mark Wilson arrived at the Usina residence on Euclid Ave. north of Vilano Beach, the cat, Isabella, was on its side in obvious pain.
The family cut the arrow and pulled it back out of the cat's legs. The Usina's say the cat is doing fine, and is already walking around.
Meantime, deputies are looking for the person who shot Isabella.
The homeowners said they saw a white pickup truck in the public boat ramp nearby, and that it sped away. A limo driver parked nearby said he saw a white truck pull in nearby, and speed away in a hurry.
The deputy drove around looking for the truck, but was unable to find it.
Now police would like your help.
The truck is described as a white, mid-90s Chevy crew cab with a loud dual exhaust.
If you know anything that could help police, call Crime Stoppers at 1-888-277-TIPS (8477). You will remain anonymous and could receive a cash reward.
Share your thoughts with our readers >>