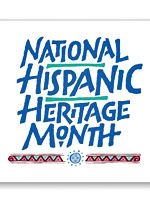 Historic City News is recognizing Hispanic Heritage Month which honors the diverse peoples of Spanish-speaking backgrounds who have come to the United States from more than 20 countries.
We've compiled a list of resources to help you celebrate and learn more about Hispanic Heritage Month!
• !Informe! An electronic periodical resource in Spanish
• Scholastic Celebrates Hispanic Heritage! Interactive timelines, scavenger hunts, and other learning fun all about Hispanic Americans
• Library of Congress, Hispanic Reading Room A first stop to learn about and sample the research facility's resources, including such useful features as biographies of every Hispanic American in Congress from 1822-1995.
• National Council of La Raza A nonprofit organization established in 1968 to reduce poverty and discrimination, and improve life opportunities for Hispanic Americans. It's Web site offers news and information about Hispanic communities and issues.
• National Hispanic Cultural Center The National Hispanic Cultural Center offers a variety of programs in the visual arts, performing arts, history and literary arts, media arts and education.
• QuePasa.com Contains topical sections such as Health, Entertainment, and Sports, QuePasa.com is available in either Spanish or English.
• Hispanic Vista Provides a full range of news, with special features including a mercado, polls, a teacher's guide, a Web directory and more.
• HispanicBusiness. The Internet guide to Hispanic business, including news and events, business forum, career resources, market intelligence and more.
• Latina/Latino Experience. This is a simple site with useful descriptions of Hispanic films and books.
• The Hispanic Society of America. Founded in 1904, the society maintains a museum and reference library.
• Latin Grammys. Find the latest Latin music news and check out this year's winners.
• Latino Issues Forum. An organization serving to promote public policy solutions from the perspective of how they will effect the social and economic future of the Latino community. The Web site provides information on issues such as health, education, economic development and more.
Let us know what you think >>