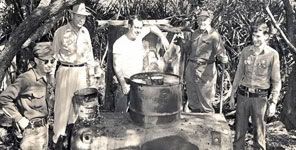 This is another installment in a series of articles that Historic City News has been fortunate to receive permission to publish; taken from a collection of nostalgic memories recorded by Geoffrey B. Dobson.
Moonshine and Gopher Stew
Part IV A Difficult Case
By Geoff Dobson
There's a big hollow tree down the road here from me
Where you lay down a dollar or two
You stroll 'round the bend and you come back again
There's a jug full of good old mountain dew
They call it that mountain dew
And them that refuse it are few
You may go 'round the bend
But you'll come back again
For that good old mountain dew
My uncle Mort, he's sawed off and short
He measures about four foot two
But he thinks he's a giant when you give him a pint
Of that good old mountain dew
* Refrain
Well, my old aunt June bought some brand new perfume
It had such a sweet smelling pew
But to her surprise when she had it analyzed
It was nothin' but good old mountain dew
* Refrain
Well, the preacher rode by with his head hoisted high
Said his wife had been with the flu
And he thought that I ort just to give him a quart
Of that good old mountain dew
* Refrain
Well, my brother Bill's got a still on the hill
Where he runs off a gallon or two
The buzzards in the sky get so drunk they can't fly
From smelling that good old mountain dew
* Refrain
(Old Country Song)
Most moonshine enforcement was left to federal prosecutors and courts. State prosecutors had a difficult time of gaining convictions. A moonshine case was a difficult case in which to obtain a conviction.. Jurors in rural counties were, perhaps, sympathetic to the plight of those who made 'shine. Although in the popular mind moonshining and bootlegging are associated with Prohibition and the hills and cloves of Appalachia, the illegal distilleries pre-dated prohibition and lasted until well after the end of prohibition. Nor was the practice of moonshining limited to the South or the hills of Kentucky, Tennessee, and West Virginia. In every state from Alaska to Florida, locals in need of money set up their illegal stills. Indeed, our word "hootch" was brought back to the States from the Alaska gold rush. The word took its name from the Hoochinco Tribe of Alaska who were known for their potent potable which they sold to the thirsty miners.
In 1964, Governor Ferris Bryant estimated that one-fourth of all liquor sold in Florida was good old-fashioned mountain dew. Stills were set up everywhere from the Everglades of Monroe County to the sand hills of northern Escambia County. Legislators only half jokingly commented on the prevalence of 'shine in Florida. In 1970, state senator, George Firestone moved to make moonshine the official state drink. The St. Petersburg Independent in 1969, reported that one bill was jokingly passed by the Legislature when some of the legislators were "overwhelmed with emotion mixed with that north Florida moonshine."
Hudson, in Pasco County boasted that it was the moonshine capital of Florida and also the "gopher racing capital of the world." St. Petersburg Times, May 4, 1978. In October of that year, 5,000 people were expected to attend San Antonio, Florida's, annual Rattlesnake Roundup and International Gopher Racing Championship. In 1974, the Florida Game and Fresh Water Fish Commission attempted to close down the festival. In that year, the World Championship was won by a Brandon gopher named Whizzer with a time of 24.2 seconds. Since then, the Commission succeeded. Racing the gophers is now a felony. Since then wooden imitation gophers pulled by ropes have been used. It just ain't the same.
Illegal stills were everywhere. At the end of World War I, a depression hit the coal mining industry of Wyoming. In Kemmerer, out-of-work miners filled the hills surrounding the Ham's Fork River with illegal stills, so many, that Kemmerer became known as "Little Chicago." The Italian miners in Rock Springs brewed so much illegal wine, known locally as "Dago Red," that grapes were brought in from California in hundred car-long trains parked next to Front Street. Mike Perko bought three tons of grapes from the Rock Springs Commercial Co. The grapes were bad and he refused to pay. When the Commercial Company sued, Mike defended on the basis that the company "warranted the [grapes] to be fit and proper for making wine, and intoxicating liquor, prohibited by the laws of the state of Wyoming and the laws of the United States;"
Utah, home of tea totaling Mormons, in the early years was famous for its "Valley Tan," a vile distillate of potatoes. George Lathrop, later a driver on the Cheyenne-Blackhills Stage, thought it "was made of horned toads and Rocky Mountain rattlesnakes." He noted in his 1915 Memoirs, after it got to working on him, he felt that he "could whip all the Sioux Indians on the plains or any of the bull-whackers who had been in the habit of talking back to me. I want to tell you that Valley Tan was the forty-rod stuff." "Forty-Rod" was a name for 'shine that was so powerful that it could kill at forty rod's distance.
In Texas, Senator Morris Sheppard, one of the authors of the Volstead Act instituting Prohibition, was embarrassed to find that one of his cousins had set up in a thicket on his ranch a still capable of making 130 gallons of white lightening in a single batch. Revenuers destroyed the still, corn, mash, and 400 gallons of booze.
It has been estimated that moonshining in Florida reached its peak in 1955. In that year, some 821 stills were broken up and 2,312 moonshiners arrested. With the prevalence of moonshine, juries and judges looked the other way. It is likely that some were themselves patrons of purveyors of the clear liquid.
Poke McHenry, a columnist for the Baker County Standard, noted one South Georgia restaurant owner who was suspected of selling moonshine. The undercover agent ate regularly at the restaurant until he gained the confidence of the owner. He asked the restaurant owner if he knew where he could get some good 'shine. After a few weeks, the price of a bottle of 'shine appeared on the lunch check. When the agent got to his car, on the seat was a bottle of the illicit liquor. The restaurant owner was arrested. At the trial, the bottle of the 'shine was introduced into evidence.
In the jury room, the foreman noted that the Defendant was the principal supplier and they would have a problem if he went to jail. "We don't know that this is 'shine, do we," he asked. "Shouldn't we test it?" The bottle was passed around and when it was empty, the jury came back into the courtroom and announced that the Defendant was "not guilty," due to "lack of evidence." A similar story is told of a jury in San Francisco. In Laramie, Wyoming, during a trial, the defense attorney periodically took a sip of the corpus delectum. By the end of the trial, it was all gone and, thus, there was no evidence to go to the jury. The defendant was acquitted.
In St. Johns County, long time Sheriff L. O. Davis was suspected as being sympathetic to moonshiners, bolita runners, and other persons who augmented their income from slightly illegal means. He was charitable but for old fashioned types of crime he tended to look the other way. On one occasion he raised money for the poor by taking donations at a cock fight. Davis was removed by the governor and criminally charged. The State Senate refused to sustain the removal after Sheriff Davis was found not guilty by the jury. It was, no doubt, a coincidence, but shortly after the verdict, one of the jurors who previously had difficulty rubbing two quarters together, was sporting around town in a new car.
Most of the old timers are gone now. Uncle Charlie died in 1972. The days of moonshine and gopher stew are for the most part also gone. The last time, the St. Augustine Record reported an arrest for moonshine in the County was in 2001, a South Carolinian speeding on I-95 heading to Miami with a jug of "tonic water" in the trunk.
In the old days, a local contracting company annually served gopher stew at its plant. The gophers were typically fished out of their holes with a pole with a hook on the end.
The contracting company went the way of all things in 1991. Gene Barber in the Baker County Press wrote of Gopher Stew:
"Northern folks would doubtless gag at the thought of gopher stew, but a good Florida Cracker (especially a poor one) knows that it is a toothsome delight, takes some doing to get it out of its shell, and its eggs are not as tasty as those of its cousin the sea-going cooter. But an old time Minorcan would spend half a day scratching one out of its hole.

"This columnist is put in mind of when dear Uncle John Crews caught a particularly large gopher in the corner of his garden (actually Aunt Molly's garden; Uncle John did not believe in agrarian pursuits) one day when he was on one of his "toots". He insisted that little ol' aunt Molly dress and cook the gopher into a stew since he had often heard its praises sung by members of the black community and some of the Saint Augustine Minorcans who were on the railway, crew. She worked almost all day stripping it of its shell and simmering the meat tender. Some time along about suppertime, she "chunked the whole mess out'n the door fer the hawgs."
Gopher stew included by Marjorie Kinnan Rawlings in her 1942 Cross Creek Cookery is now illegal, a felony punishable by being sent off to Raiford..
Most of those involved are now dead. Sheriff Davis ran for reelection but was defeated. He died on April 4, 1990, and is interred at Evergreen. Sheriff Robbins was sentenced to two years in prison. He died in Williston in 1988.
Hoss died on April 11, 1995. Other than during the troubles, his moment of fame was a small part in "Distant Drums." He introduced actress Mari Aldon to swamp cabbage. Few knew Hoss's actual given name or, if they did, its correct spelling. National and local newspapers usually misspelled his given name as "Holstead," "Halstead," or as used by most of his friends and enemies, "Hoss." The actual spelling as show by court documents and the Social Security Admiistration was, "Holsted."
Recipe for gopher stew (to be legal, substitute pork or gator):
Cut meat into 2-inch pieces and simmer in salted water until tender. In a large Dutch oven, fry some salt pork until crisp and the fat is rendered. Add meat and brown. Add a generous amount of chopped onion, some chopped bell pepper, minced garlic, diced tomatoes and simmer for 20 minutes.

Then add the water the meat was cooked in, some diced potatoes, a few bay leaves, salt and black pepper to taste, and a fresh datil pepper or a dash of datil pepper sauce. Simmer for 1½ to 2 hours over low heat. If necessary, thicken stew with a little flour dissolved in water, or some mashed hard-boiled egg yolks. For those that can afford the luxury of dry sherry, a dash may be added just before serving.
Serve piping hot with rice and corn pone.
Photo credit: Sheriff's Office 1956 raid of a St. Johns County moonshine still picturing (from Left) Deputy Louis Cook, Chief Deputy Cecil Wilds, Deputy Kenny Masters, Sheriff L. O. Davis and Deputy Willis Capo.
Geoff Dobson, a St Augustine resident for the past 32 years, is a western and Florida history writer and a former president of the St. Augustine Historical Society. Before his parents moved to Florida, his father was a Black Angus cattleman. Geoff has written extensively on Wyoming history ("Wyoming Tales and Trails"). When Geoff was in high school, his family lived in the cattle country of eastern Sarasota County. The family spread, which his parents called "Wild Cat Slough," was reachable only by a pair of ruts over the sand hills and through a snake and gator infested slough. Now, it is an area of four-lane roads, expensive subdivisions, shopping centers, and office parks. . His undergraduate degree is in history. Geoff received his post-graduate degree from the University of Florida. He may be reached at horse.creek.cowboy@gmail.com
Let us know what you think >>