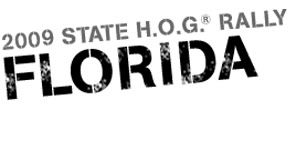 The City of St. Augustine cautioned Historic City News that the 2009 Florida State H.O.G. Rally's Parade of Flags will cause some brief delays at intersections in and around town on Saturday morning.
The parade of several hundred motorcycles starts at Bozard Ford, SR 16 and I-95 at 9:00 am and travels east on SR-16, then south on Ponce de Leon Blvd., east on SR-312, south on A1A (old SR 3,) then north on Beach Blvd. through St. Augustine Beach, continuing north onto Anastasia Blvd. over the Bridge of Lions, north on Avenida Menendez, west on W. Castillo Dr, then north on Ponce de Leon Blvd., and west on SR-16 back to Bozard Ford.
The parade is expected to last approximately one hour and is being escorted by motorcycle units from the St. Johns County Sheriff's Department and the St. Augustine Police Department.
Let us know what you think >>