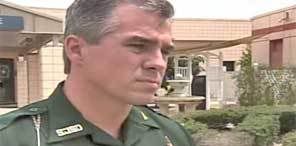 Just before midnight, Historic City News learned that shots were being fired into an occupied home on Sanitorium Avenue in St. Augustine.
Sgt. Chuck Mulligan tells us that deputies responded to the address of the shooting and interviewed a complainant and two witnesses – all of whom were in the home at the time of the shooting.
One witness reported hearing "at least seven gunshots" coming from the street while the other two occupants were in the living room watching a basketball game.
The complainant narrowly missed being hit when he approached his front door to see where the shots were coming from.
As deputies combed the crime scene, they discovered a total of twelve bullet casing on the street in front of the house. The bullets had been fired from both a 9mm and a .40 caliber weapon.
The victim's vehicle was parked in front of the home and was struck several times; in the trunk, passenger and driver side doors.
When interviewed by officers at the scene, one of the witnesses said they couldn't imagine who would have done such a thing because they have no enemies.
The case has been forwarded to the Sheriff's Robbery Homicide Unit for further investigation.
Share your thoughts with our readers >>