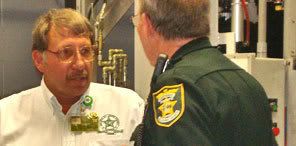 Media Relations Officer Kevin Kelshaw reported to Historic City News this morning that SJSO Detectives assigned to the Violent Crimes Unit are seeking a suspect in connection with a home invasion that occurred early this morning.
Deputies responded to a call regarding a home invasion that occurred in a residence in the 1500 block of San Lucie Ct., at 2:30 a.m.
The 80-year old victim stated that she was sleeping when she was awakened for an unknown reason and observed a male subject standing over her brandishing a large knife.
The victim began to scream and the suspect gagged her and secured her and demanded money.
The victim retrieved her purse and the suspect grabbed the purse and fled out of the room.
He then fled out of the residence and the victim called the Sheriff's Office. She was treated for minor injuries at the scene by County Rescue Personnel.
Deputy Greg Mullenix responded with his K-9 who tracked to Old Beach Rd. and then across A1A South before losing a scent.
The suspect was described as a light skinned black male or tanned white male, in his late teens to early 20's, 5'8"-6'00 tall, with a slim build. He was wearing a dark blue or black zipper hoodie jacket with the hood pulled over his head, dark colored pants and dark colored gloves.
The investigation is continuing.
Let us know what you think >>