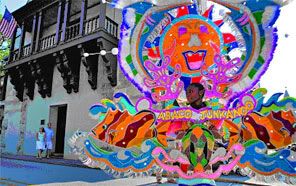 Historic City News contributor Sacha Martin reports that over the years, members of the St. Augustine Yacht Club have made many trips to Abaco, and many still participate in the Annual Regatta Week in July there.
It was natural for the Yacht Club to sponsor a JUNKANOO event in St. Augustine with the Tourist Development Council – a cultural exchange that also provides funding for a deserving student from Abaco to attend Flagler College.
Some are also members of the St. Augustine Airport Pilots Association, for which Abaco is a familiar destination. Many members of the Marlin Club fish in offshore tournaments there every year, some ending up with "the fish of a lifetime".
Over the years, residents of St. Johns County have come to know residents of Abaco who have become almost like family to them. One noted St. Augustine Dentist, Dr. Ron Hucke, stopped by George "Sho Bo" the conch man's stand in Marsh Harbour, and not only did they become lifetime friends, but Dr. Hucke became a godfather to one of George's children. Another St. Augustine resident saved another one of George's children from drowning.
George began coming as a guest to St. Augustine in the summer when there are few tourists to buy his famous conch salad. He had a dream that a student from Abaco could have the opportunity to go to Flagler College. Dr. Hucke helped put together a JUNKANOO scholarship fund, and in 2007, with financial assistance from the Bahamas Ministry of Tourism, organized a JUNKANOO celebration here.
The first scholarship student will begin Flagler College this fall. Pareece Moss and her family will be attending this year's JUNKANOO. She has been invited to be featured at a Rotary International District conference seminar at Flagler College, also being held on May 16. To help the scholarship fund, there is a reserved ticket Bahamian Breakfast with a JUNKANOO rush at Creekside Dinery on Sunday the 17th.
JUNKANOO really came about in St. Augustine before 1783 when British Loyalists and their slaves were thrown out by the Spanish from what was then called East Florida and many fled to Abaco and other Bahamian Islands. The only real holiday that the former African slaves were allowed was at the time of the Christian Christmas and New Years celebrations. They took advantage of that free time to rekindle their African religious traditions, which included a continuous dancing parade they call a "rush". Costumes representing their spirits were made from banana leaves and other plants, decorations from shells.
Many of today's elaborate costumes have an ocean theme with sea creatures and fish and the sun and moon. This year's featured JUNKANOO group from Abaco are the Treasure Cay Explorers. Famous artist Anne Ray has donated an original watercolor of the Hope Town Lighthouse and will be selling her prints. And of course George his conch salad.
Share your thoughts with our readers >>