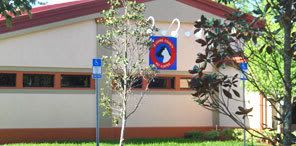 As Animal Control and the Pet Center reached the half-way point in the calendar year, they have seen a sizable increase in service demands compared to the previous year according to County Administrator Michael Wanchick.
"At this time in 2008, total numbers were just over 1,900, but this year they are nearly 2,200, due in large part to the increase in owner surrenders" Wanchick said.
Because of the large inventory of cats, the County is offering a special adopt two cats for only $60.
Regular adoptions at the Pet Center are $55 for both males and females, which includes neutering/spaying, rabies vaccinations and shots.
The Pet Center is located at 130 N. Stratton Boulevard, just off US-1 between County Road 210 and International Golf Parkway.
The hours of operation are 8:00 a.m. through 4:30 p.m. Monday through Friday and 9:00 a.m. through 12:00 noon on Saturday.
For more information, call the Pet Center at 209-6190.
Photo credit: Historic City News photographer Kerry McGuire
Let us know what you think >>