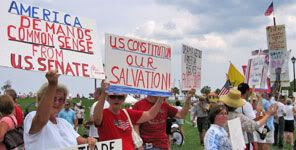 The United American Tea Party reported to Historic City news that the Historic St. Augustine Independence Restoration Reclamation Rally is being held today between 2:00 p.m. and 6:00 p.m. on the fort green at Castillo De San Marcos.
According to Park Rangers' official estimates, more than 1,200 citizens participated in the Tax Day Tea Party at the Castillo de San Marcos on April 15th.
The United American Tea Party is the St Johns County component of Tea Party Patriots and they are organizing today's Independence Restoration Reclamation Rally.
There is no charge to participate, however, you are reminded to bring a hat, drinking water, sun screen and lawn chair along with your homemade sign.
According to the organizer's website, the Tea Party is a grassroots Non-Partisan community response to the increasing intrusions of the Federal government into our personal lives… particularly, the endless list of taxes. This is a tax revolt.
Tea Party Patriots are not affiliated with any political party; they believe that nothing has divided this country more than political parties.
Members of the organization believe that the current government is overblown, excessive, self serving and corrupt and must once again be brought under the control of the American people.
Tea Party Patriots "are as American as Apple Pie, strongly Patriotic and proud of it. It is our mission to protect these same Patriotic values and Traditions for our Children and Grandchildren." according to a statement provided to Historic City News.
For more information visit the United American Tea Party website at http://www.justpatriots.com/
Photo credit: Red Ruffansore
Share your thoughts with our readers >>