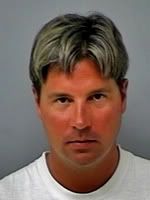 Historic City News has learned that within 2 hours of being booked in the St. Johns County Jail, an inmate has apparently committed suicide while still in custody.
Officers with the St. Augustine Police Department brought felony battery charges and arrested 42-year old Christopher Halstead on October 26, 2009. According to the county jail log, Halstead was booked at 7:28 p.m. last night.
In a report filed by Deputy Leigh A. Godino, at approximately 9:25 p.m., just less than two hours later, Deputy Gerald J. Dalager, III was alerted that Halstead was "hanging from his sheet" in Block 4 – Cell 5a. Notification reportedly came from 43-year old inmate Steven James Messer who was being held in Block 5.
After reaching Halstead's cell and discovering him hung to the top bunk with a sheet, Deputy Dalager called for Deputy Jacob A. Bach and the nurse to assist him in attending to the inmate.
Deputy Godino responded to the call and assisted in holding Halstead up while Deputy Bach went to retrieve the suicide knife. Halstead was cut down and checked for vital signs. According to the report, there were no signs of heartbeat or breathing.
Deputies David J. Pius and Stephen P. Jensen began CPR on Halstead.
Once nurses Kelly McCarthy-Prada and Jenniffer Owens arrived, they began to attend to the inmate and instructed that rescue be called. Deputy Godino said that she called 911 for rescue and contacted watch commander Lt. Shirley A. Keller.
After rescue arrived, Halstead was moved downstairs so that they would have more room to work on him. Sergeant John C. O'Neil and Deputy Pius were asked to continue CPR on Halstead. Rescue breaths and chest compressions were continued up to 9:57 p.m. when rescue personnel advised to stop any further life saving measures.
Sergeant O'Neil was said to have contacted the communications center to notify the investigations division and the medical examiners office. The incident was relinquished to the control of Investigator Sergeant Randy M. McCullough.
The Sheriff's Office reported to Historic City News that Halstead was born in Charleston, West Virginia and had been living at 123 Sunset Circle South in Saint Augustine. Halstead last worked as a logistics and warehouseman for Target Stores. Later this week, an autopsy will confirm the cause and manner of Halstead's death.
Let us know what you think >>