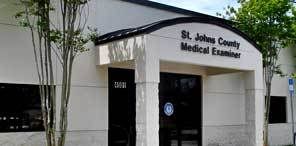 Historic City News has been informed that The District 23 Medical Examiner's office in St. Augustine is expected to release autopsy results later today following yesterday's death of a twelve month old baby.
Kevin Kelshaw, Public Relations Officer with the St. Johns County Sheriff's Office, reported to Historic City News that deputies responded to the 300 block of Harvard Road on Sunday afternoon.
When Fire and Rescue personnel reached the scene on Harvard Road in St. Augustine South, they found a twelve month old girl that was not responsive.
According to an official press report, the child was taken to Flagler Hospital and was pronounced dead at 12:24 Sunday afternoon.
The incident started when the father drove the baby's mother to work. Because of the short distance of the trip and the fact that other family members were still at home, the report says that the father was not aware that the mother had placed the child into the car carrier.
Upon returning home the father went inside, according to the report. After a period of time the father entered the child's room and discovered the infant was not in her crib.
The Sheriff's Office says that after a search of the home and outside area, the family located the child strapped into the vehicle's car carrier and immediately called 911.
Historic City News will update this story when the autopsy results are available.
Let us know what you think >>