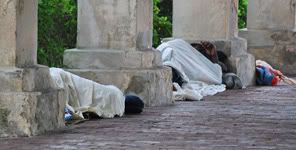 Arguably one of our greatest local treasures and site most true to the way it appeared around the time it was built in 1824 is the public market pavilion located in the central plaza of St. Augustine.
Although the market is not as popular an attraction as Castillo de San Marcos, the Plaza de la Constitution has been a point of interest and tourist stop since the beginning of guided tours of the city.
Construction is currently at a fevered pitch as workers hustle to complete the new roundabout and traffic pattern for the Westside foot of the Bridge of Lions.
As tourists in their cars or guided trams are shuttled around the production, another visitor to our city is becoming more and more prominent.
The market is quickly becoming a homeless camp – an eyesore and an unwelcome distraction for guests in our downtown lodging and restaurants.
It's not against the law to be poor — and nearly every city of our size or larger has a homeless problem. It's a fact of life and a reality.
Unfortunately as we begin the summer vacation season and prepare for outdoor events like the Fourth of July fireworks, it is clear that vagrants who are making our market their home-for-the-night will present a special safety need that must be addressed.
Historic City News interviewed one visitor in the market who told us she had planned to be in town for the rest of the week and came to St. Augustine with intentions of enjoying the fireworks.
She and her family are from South Georgia; however she asked not to be named.
After checking in to her bayfront hotel last night, she and her husband went to a nearby restaurant for dinner and they decided to "walk it off" with a stroll down St. George Street and around the plaza.
Unfortunately, as they walked across Cathedral Place and entered the plaza, she says that they were approached by two "scruffy looking" young men – one was on a bicycle and the other had a skateboard under his arm.
The man with the skateboard asked her husband for money, according to the visitor, while, at the same time, the second man brushed up behind her on his bicycle. She told us that she felt a tug on her purse; however, she says it was well secured on her shoulder.
The visitors left immediately and continued to walk towards the market and were ready to return to their room. As the couple approached the market, they noticed "four or five" more men and an older woman huddled under the pavilion with what she described as "everything they probably own" in plastic bags strewn around the west market entrance.
Not wanting another confrontation, they turned and crossed back over Cathedral Place – now briskly walking back to the safety of their hotel.
This is a sad commentary on our public market and the attractiveness that it holds for tourists visiting St. Augustine.
Dealing with homelessness is one issue. Dealing with beggars and aggressive panhandlers is another.
Unfortunately, the homeless who are appearing in growing numbers in the plaza are sometimes resorting to harassing tourists and others by begging for money. At the very least, our visitors have legitimate concerns for their personal safety when trying to navigate what are becoming the homeless "campsites" at the public market pavilion.
There is no easy solution at hand for this problem; however, it is important to our survival as a premier tourist destination that we stay focused on finding a cure.
Photo credits: Historic City News photographer Kerry McGuire
Share your thoughts with our readers >>