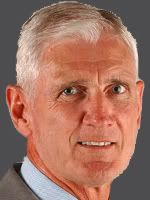 Historic City News has learned from the Supervisor of Elections Office that former St. Johns County Commissioner James E. Bryant has registered as a Republican candidate for the District 4 seat.
Twice chairman of the St. Johns County Board of Commissioners, Bryant has been in St. Johns County since 1972 when he began working as a pharmacist at Hays Pharmacy on Anastasia Boulevard. Bryant purchased the store in 1984 and sold it in 1997.
He served as District 5 commissioner for 12 years from 1996 until 2008.
Bryant served on the Crack Cocaine Task Force that led to the implementation of the St. Johns County Drug Court. Bryant supported St. Johns County's purchase of Flagler West Hospital to house the St. Johns County Public Health Department, the St. Johns County Mental Health Department and other health services.
Bryant served as the County Commission liaison to the Health & Human Services Advisory Council, the St. Augustine-St. Johns County Airport Authority, Housing Finance Authority and Industrial Development Authority.
Bryant also served as chair of the Local Coordinating Board for Transportation Disadvantaged and supported the formation of Sunshine Bus Service to provide routed service for the needy.
Seat 4 is currently held by Phillip J. Mays, who was appointed by the governor last December to fill the remaining unexpired term of Thomas G. Manuel; who was convicted of corruption in public office.
Bryant already has a known primary opponent; Joseph Alan Mayhew who lists a post office box address in Ponte Vedra Beach. Mays, who is registered as a Republican, has not announced if he will seek election when his appointment expires next year.
Let us know what you think >>