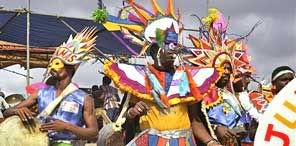 The ancient streets of St. Augustine will be filled with the colorful excitement of the Bahamas when the Annual Junkanoo Festival gets underway on Saturday, May 16th.
Featuring young people and musicians from Abaco, Bahamas, festival highlights include an authentic Junkanoo Parade and a free concert featuring De Lions of Jah at 1:30 p.m. in the city's historic Plaza de la Constitucion.
The Plaza will be filled with Bahamian music, crafts and food from 1 p.m. until 7 p.m. At 2:30 p.m., the sound of drums, bells, whistles, and horns will announce the Junkanoo Parade when authentically-clad Bahamian dancers and musicians "Rush Out" from the Plaza, down St. George Street and back again. The colorful and exciting "Rush Out" will be repeated at 5:30 p.m. Everyone is invited to bring a lawn chair or blanket and settle in for a fantastic tropical evening of music and fun.
Although the festival promises to provide great entertainment, its primary purpose is to bring young people from Abaco and St. Augustine together for a cultural exchange and to create new friendships. Proceeds from the St. Augustine event will be used to support a Flagler College scholarship for a deserving Abaconian student.
The Junkanoo Festival will also provide Bahamians with an opportunity to trace their family's heritage in St. Augustine.
Following their defeat by the Americans in the Revolutionary War, more than 17,000 British loyalists fled south from their former colonies to a safe haven in St. Augustine. Unfortunately for them, the Spanish re-claimed Florida in 1783 and the loyalists were evacuated. As a result, many former St. Augustine residents started their lives over in Abaco.
The Junkanoo Festival is funded in part by a grant from the St. Johns County Tourist Development Council and is hosted by the St. Augustine, Ponte Vedra & The Beaches Visitors and Convention Bureau, St. Augustine Yacht Club, St. Augustine Airport Pilot's Association, Flagler College and the Bahamas Ministry of Tourism. Many local companies, including HavenTrust Bank, the St. Augustine Lighthouse and Museum, St. Johns Family Dentistry, Leonard's Studio and Free Press are sponsoring this exciting event.
Let us know what you think >>