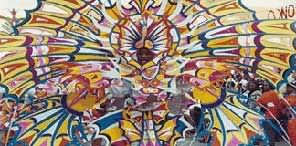 Mardi Gras has nothing on us. Historic City News is pleased to announce the return of the Junkanoo Festival.
Junkanoo, that energetic, colorful parade of brightly costumed people gyrating and dancing to the rhythmic accompaniment of cowbells, drums and whistles, returns to St. Augustine May 16-19 after a one-year hiatus.
Arranged by the St. Augustine Yacht Club and the St. Augustine Airport Pilots Association, the event is a festival with a purpose – a cultural exchange between our city and Abaco in the Bahamas, where Junkanoo is a tradition. More importantly, it will fund a scholarship to Flagler College for a top Abaco student, The Junkanoo Scholarship.
Its first appearance two years ago overwhelmed onlookers in and around our Plaza and St. George Street. The connection between our cities: when the British left St. Augustine with the Treaty of Paris in 1883, most moved to the Bahamas, where descendants live today.
Share your thoughts with our readers >>