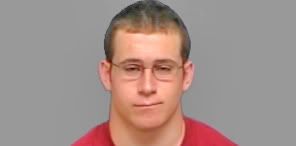 The St. Johns County Sheriff's Office reported to Historic City News this evening that a 17-year old Ponte Vedra Beach resident was arrested on charges of strong-armed robbery and possession of prescription medication without a prescription on Sunday afternoon.
Violent Crimes Detectives arrested the suspect who has been identified as Ryan Walter Mickens residing on Timberwalk Court.
Following questioning, Mickens was transferred to the juvenile detention facility.
The investigation began at 4:30 p.m. Sunday afternoon when deputies were dispatched to the GNC store on A1A North regarding an alleged robbery.
The victim stated that the suspect entered the GNC store and asked to use the restroom. After other customers left the store, the suspect came out of the restroom and purchased a bottle of water.
Upon completing the transaction, the suspect told the victim to press the "No Sale" button on the register and he demanded all of the money.
The victim believed the suspect was holding a gun under his shirt.
The victim complied and the suspect fled on foot. The victim called the Sheriff's Office and the suspect was spotted a short time later by deputies responding to the call.
Deputies detained Mickens and located $128.00 in cash along with 25 Xanax tablets and a GNC plastic bag in his possession.
The 27-year old victim positively identified Mickens and he was arrested, according to the report provided by Media Relations Officer Kevin Kelshaw.
Share your thoughts with our readers >>