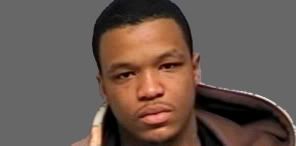 17 year-old Dwight Hines was taken to the Department of Juvenile Justice detention facility Thursday — but not before he lead a deputy sheriff on a foot chase and assaulted him with a .22 caliber handgun according to a report received by Historic City News on Friday.
Deputy Thomas Bickhart approached Hines and a second, unidentified black male in the area of West 4th and South Volusia at about 11:30 p.m. because Hines fit the description of a suspect who fled from an earlier traffic stop in the area. When the deputy asked Hines for identification, Hines and the second suspect fled on foot.
Bickhart chased the pair for about a block when Hines pulled a black handgun out of his jacket and pointed it at the deputy. According to the incident report, Hines threw the handgun at Deputy Bickhart, striking him in the head. Bickhart deployed his taser against Hines and took him into custody.
On the way back to Bickhart's patrol car, Hines allegedly removed a pill bottle, said to contain crack cocaine, and Hines threw it into a ditch.
Hines has been charged with aggravated battery using a deadly weapon, resisting an officer with violence and possession of cocaine — all second and third degree felonies.
Let us know what you think >>