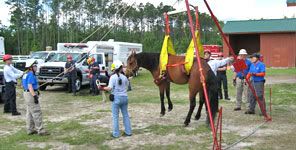 Historic City News learned that the UF College of Veterinary Medicine's Large Animal Technical Rescue Team, the St Johns County Fire Rescue Special Hazards Operations Team and St. Johns County Animal Control performed joint large animal rescue training this past weekend.
The Star 4 Ranch graciously allowed us the use of their facility during the class. This versatile facility allowed the teams to practice numerous rescue scenarios in a variety of situations.
Over a year ago, several members of the St Johns team attended the nationally recognized TLAER (Technical Large Animal Emergency Response Inc.) training, coordinated by UF. The UF team has since expanded which allowed them to offer the St. Johns team several days of intensive "refresher" training.
The teams practiced rescuing a simulated horse from mud, built mechanical advantage systems and sling systems for lifting live stock, participated in the water rescue of a horse, reviewed different methods of moving injured horses on the ground and discussed team safety around horses.
John Haven, Director of the UF College of Veterinary Medicine, and leader of the UF VETS disaster response team says, "We train with various first responders from around the state. We are able to teach the firefighters specific tools for dealing with animals, and we learn from their great experience and training in technical rescue. In the end it makes us all better, and the training together improves our ability to respond together in the future."
With both agencies dealing with several of these incidents in the recent past, this training ensures that future incidents will run smoothly and allow for the best and safest possible outcome.
The UF team, "VETS," is a statewide deployable, self contained, large and small animal disaster response team, and is the lead veterinary medical component of the Florida SART (State Agricultural Response Team). The large animal rescue team is available to the north central Florida region to assist at any time for a large animal emergency. Components of the "VETS" team may also be accessed via EMAC. Its equipment and training activities, like this one, are funded by grants and donations.
Let us know what you think >>