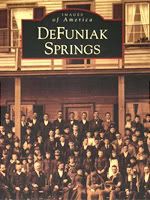 Editor-
I really enjoyed Geoff Dobson's article about barbershops and would love to know the source for the story about the incident in DeFuniak Springs (Walton County).
It would make a great piece of "local color" for our visitors.
I heard from him this morning.
Thank you also for your great website.
I love St. Augustine and hope to visit again soon.
Diane Merkel
Trustee and Webmaster
Walton County Heritage Museum
Walton County Heritage Association, Inc.
Let us know what you think >>