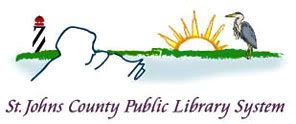 Library Director Debra Rhodes Gibson reported to Historic City News that the St. Johns County Public Library System was recognized this month by the Florida Library Association for having the best public library website in the state of Florida.
Gibson and library staff members accepted the award in Orlando on May 8 during the FLA annual conference.
The website www.sjcpls.org was nominated by the St. Johns County Library Advisory Board, due to such features as its attention to patron satisfaction, use of web 2.0 tools, social bookmarking utilities and patron book reviews.
Criteria used by FLA for choosing the best library website included creativity and appearance of website, ease of use, accessibility, subject areas, access to virtual library services, linked websites, and services and databases available to the public.
Gibson is proud to receive the award, which indicates the website is properly serving the public. "The goal of the Library website is to provide a multitude of relevant, useful and timely information to the public," she said, "and this award indicates we are successfully meeting that goal. We are constantly adding new information and updated features, and we encourage the public to take full advantage of all the website offers."
As expected, the website offers typical functions such as accessing the library catalog, reserving or renewing items, finding a branch library and its hours, checking upcoming events on the calendar, reviewing lists of books and recommended items and learning about book clubs and Friends of the Library groups.
However, the library website goes far beyond the basics to offer easy access to a world of information which often is otherwise unavailable to the general public. Some examples include The Business & Company Resource Center, Auto Repair Reference Center, Homework Help for various grade levels, World Book Online, Downloadable Audiobooks (now including titles which are iPod compatible), Downloadable Shows and Movies, Popular Magazines, Opposing Viewpoints Resource Center, Gale Directories, Ancestry.com and many more.
The Library website also includes other great features for patrons, such as easy search boxes to simplify finding information. Patrons can also find a variety of reader resources through online access to library book clubs, New York Times Bestseller lists and a myriad of other resources. Even better, the library now has online video tutorials on how to use some of the resources, making it easier than ever.
In addition to being recognized for a great website, the Library has also begun using social networking sites like Facebook and Twitter. These resources give the public even more ways to view library events, receive library news updates and access the virtual library from anywhere.
Let us know what you think >>