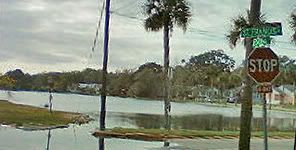 Maria Sanchez Lake overflowed at Cordova and St. Francis streets late last week from a combination of a full moon, northeast winds, rain and high tide.
According to lakefront resident Joan Shannon, "This is the highest tide we've seen without a hurricane."
"A neighbor called to report an otter sighting early Friday morning," Shannon said. "My son saw it — I think I saw it swimming south."
City workers report that both the recently added bulkhead around the lake and the new weir controlling tidal flow are working well — but can only do so much.
Photo credit: © 2009 Historic City News contributed photograph from The St. Augustine Report
Share your thoughts with our readers >>