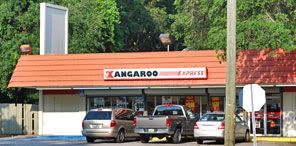 Historic City News has learned that police are investigating an armed robbery that occurred last night at a Masters Drive convenience store.
Police are looking for two young men – possibly in their early teens – who are seen on the store's surveillance video.
Shortly before 11:00, police responded to the Kangaroo on Masters Drive and were concerned to learn that such potentially young teenagers were armed with handguns.
When the surveillance video was inspected, it showed two young men with their faces covered by a bandana and tee shirt.
They dash into the store aiming a black handgun at the clerk.
One of the suspects hops the counter while the other goes for the cash drawer.
Both suspects are seen running out of the store.
No one inside the store was hurt and there was no report of how much money had been stolen.
Police have collected several fingerprints and they are continuing their investigation today.
Anyone with information about this case is asked to contact First Coast Crime Stoppers at 1-866-845-TIPS or email them at rewards@crimestoppers.com. You can remain anonymous and could receive a cash reward of up to $1,000 if your information leads to an arrest.
Photo credit: Historic City News photographer Kerry McGuire
Let us know what you think >>