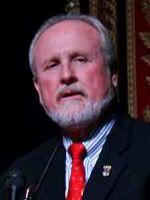 Last night Mayor Joe Boles addressed between 150 and 200 citizens; including some Historic City News readers who were on hand at Flagler College Auditorium to learn more about the strategic plan for the 450th Commemoration.
450th Commemoration Commission Executive Director Dana Ste. Claire outlined a strategic plan including over a hundred committees to be developed for the commemoration period 2013-2015.
"It will be you folks who set the stage to tell our story to the world," Ste. Claire told the gathering.
The Regional Steering Committee reviewed and adopted the plan approved by the St. Augustine City Commission during a workshop on Tuesday, October 27th as the "first draft" to the anniversary celebrations.
Local resident Herbie Wiles, who attended and took notes at last night's meeting, reported this morning that he received his "Passport to Exploration" and first attendance stamp. According to Wiles, those who complete the seven-part program series, which continues through May 2010, will be "certified" 450th ambassadors and hosts and will receive a limited edition souvenir.
Longtime St. Augustine businessman Henry Whetstone, whose businesses are directly impacted by tourism, said that he thought the celebration plans, as conveyed by Wiles, sounded good.
Wiles also reported that recruitment is underway for volunteers to serve on committees, programs, and projects.
Mayor Boles explained to the audience that the First America program series is being presented by the St. Augustine 450th Commemoration Commission, in partnership with Flagler College and the City of St. Augustine, and is made possible, in part, by a Florida Humanities Council grant.
The series will offer entertaining and enlightening programs on St. Augustine's important role in the historical and cultural development of the United States. "St. Augustine is First America", Boles said.
All First America series programs will be held at the Flagler College Auditorium, 14 Granada Street, St. Augustine, unless otherwise stated. Discover First America: Legacies of La Florida begins this Thursday at 7:00 p.m.
Let us know what you think >>