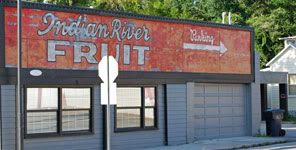 Mayor Joe Boles said Saturday that he is "saddened" at the loss of the historic Indian River Fruit Stand signage on the San Marco side of the building at San Marco Avenue and Locust Street according to a report received by Historic City News this morning.
Planning and Building Director Mark Knight reportedly said the city codes allow the painting over. The current tenant, die cast retailer "Big Bill," said, "I got fed up with people coming in looking for fruit."
The historic signage along Locust Street will remain – perhaps due to the flood of calls during the paint-over according to The St. Augustine Report.
Boles said, "We've got to strengthen everything we can in our codes to preserve our historic assets."

For the mayor, Saturday's paint-over is personal. As a former tenant in the building, "I personally put sealer on that signage to preserve it. It was badly flaking, so the sealer stopped that. But this painting they did – there's no way that signage can be restored."
Boles noted that the original fruit stand signage was preserved because previous owners boarded over, rather than painting over, the signage.
Former Mayor George Gardner found the same in renovating 46 Charlotte Street years back. Beneath exterior siding were the original upstairs pillars and railing of a porch.
Photo credit: Historic City News photographer Kerry McGuire
Let us know what you think >>