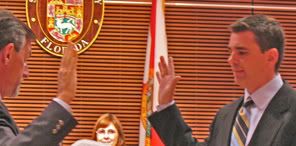 Historic City News was on hand when St. Johns County Commissioner Phil Mays was sworn into office at today's regular meeting of the St. Johns County Board of County Commissioners.
The Oath of Office was given to Commissioner Mays by the Honorable Charles J. Tinlin, St. Johns County Judge of the Seventh Judicial Circuit.
Mays, a resident of Ponte Vedra, was appointed to fill the District 4 commission seat by Governor Charlie Crist on December 23, 2008. Mays' appointment filled a vacancy created when Governor Crist suspended Commissioner Thomas Manuel from office in October.
Mays brings a significant legal and financial background to the Commission. He holds a law degree from the University of Florida and is a member of the Florida and Georgia Bar. He is the principal owner of Mays Equities Inc. and has previously worked as legal counsel in both corporate positions and law firms. Mays has also been active with the Ponte Vedra Coalition and the West Augustine Community Redevelopment Area (CRA) Advisory Board.
Mays said during the meeting that he is looking forward to working with other members of the Commission to benefit St. Johns County. "I am honored to represent the people of Ponte Vedra and all of St. Johns County," he said. The other Board members welcomed Mays to the Commission and also expressed their pleasure about working with him as the County progresses into the new year.
The next regular meeting of the Board of County Commissioners is scheduled for Tuesday, January 20, at 9:00 am in the County Auditorium.
Share your thoughts with our readers >>