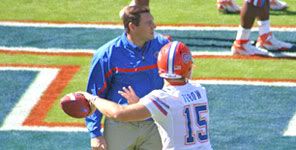 Historic City News has learned that less than 24 hours after resigning, Florida Coach Urban Meyer has changed his mind.
The 45-year-old Meyer said being with his players at a "spirited practice" this morning persuaded him not to resign.
Meyer is reported to be taking an "indefinite leave of absence instead of resigning" and he is expecting to be on the sideline leading the Gators when next season opens. "I do in my gut believe that will happen," Meyer said today at a Sugar Bowl news conference.
On Saturday night after five seasons, Meyer shocked college football fans everywhere when, reportedly due to health concerns, he announced that he was stepping down as coach of the University of Florida Gators.
According to news wire stories, Meyer said he was offered and encouraged to take a leave of absence earlier in the week by the university president. Sunday, after conferring with athletic director Jeremy Foley and his family he "accepted the offer to improve my health."
Foley said when he went to sleep Saturday night he did not think there was any chance Meyer would change his mind. "It was a long night for everybody in Gator nation," Foley said. "The intent here is to make sure Urban goes and deals with the issues we discussed last night."
Offensive coordinator Steve Addazio will run the team during Meyer's absence, but Meyer will be the coach against No. 4 Cincinnati on New Year's Day.
After the Southeastern Conference championship game three weeks ago, Meyer spent several hours in a Gainesville hospital because of chest pains.
Meyer said Sunday he had experienced similar problems at times this season but had not had a heart attack. However, he would not elaborate on his physical condition. When asked if doctors advised him to stop coaching, Meyer again declined to answer.
University of Florida spokesman, Steve McClain, said that rumors Meyer had suffered a heart attack, or a stroke, were false — nor does he have cancer. McClain said Meyer's tireless dedication and work as the Gators' coach, and his body's reaction to the incredible workload, is actually the primary reason for him stepping down.
"His health issue is his body's reaction to stress," McClain said. "His doctor told him he was heading down a path that would not be healthy (in the future)."
Meyer met with his players after practice on Saturday night to tell them he will coach his final game at the Sugar Bowl against Cincinnati on New Year's Day. The meeting was filled with tears as players and coaches wept.
The Crimson Tide derailed Florida's perfect season this year — and left Meyer in a Gainesville hospital. Team officials initially said he was treated and released for dehydration. But players and coaches later said Meyer had chest pains. Meyer refused to talk about his hospital stay but acknowledged that he needed to take better care of himself.
"He puts a lot on himself and he cares a lot and he takes a lot of the burden on himself," Tim Tebow said last week. "That's something we talk about a lot. You've got to take care of yourself. Although we're both very passionate, you can't always let it all feel like everything is on your chest."
Share your thoughts with our readers >>