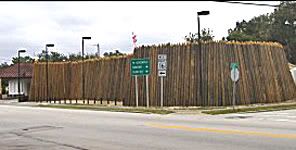 Historic City News inspected the towering 16-foot wall on the former Parker Cadillac lot at San Marco and Park Avenues and can report that it is the real thing – or as close as Chuck Ponce can make it to an early St. Augustine fort.
The work in progress will have a second, shorter wall behind it. The area between them will be filled with soil for a cannon mount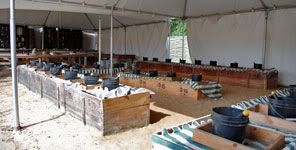 Chuck is the son of Sandy Craig, who operated the museum for years in tighter quarters across the street on Ripley's "Old Sugar Mill" property. "This area gives us so much more opportunity to develop time periods in our history," Chuck says.
The expanded Old Florida Museum recreates the city's earliest settlement in the late 1500's.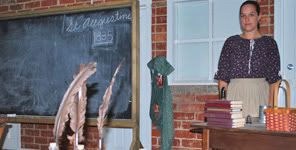 The "bible" for Ponce's construction detail is Albert Manucy's "Houses of St. Augustine".
The work in progress so far includes a Seloy Indian longhouse, wattle and daub council house, the Governor's House, an archaeology experience and 1835 schoolroom – part of future development of that period.
School groups and tours visiting regularly work around the construction areas as they experience interactive programs of St. Augustine's earliest years.
Photo credit: © 2009 Historic City News staff photograph
Let us know what you think >>