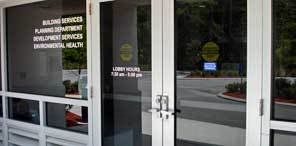 County Administrator Michael Wanchick reported to Historic City News that former St. Johns County Building Official Stan Deangelis has retired as of the end of June, 2009.
Howard White has been named interim Building Official for St. Johns County.
Florida Statutes requires the County to maintain a Building Official, and White possesses all required certifications. He has served as Deputy Building Official and Building Division Manager for the past seven years and was the acting Building Official during the absence of Deangelis.
"Howard is an excellent member of the St. Johns County organization" Wanchick said.
The Building Services Division permits and inspects construction activity in St. Johns County to protect the life, health and property of our community. The contractor licensing program ensures that contractors have demonstrated the knowledge and experience required to perform their trade.
Links are available on the county's website for Building Permit Information, Building Inspection Information and Contractor Licensing Information that will help you complete your building project successfully. Visit http://www.co.st-johns.fl.us/BCC/growth_mgmt_services/Building_Services/index.aspx for more information.
Photo credit: Historic City News photographer Kerry McGuire
Share your thoughts with our readers >>